Less is more
Ergonomic design concept, in order to make the most comfortable proportion.
Three-layer compartment design
The extra-large bamboo leaf-shaped design can clearly separate the three-story space, and can also place different things neatly on the left and right.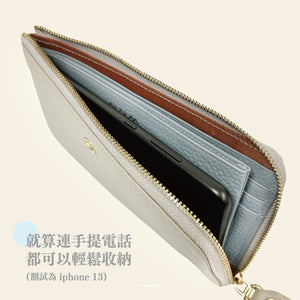 Phone can also be accommodated in wallet
The meticulous and considerate design allows ladies to easily go out on the street with only our long wallet.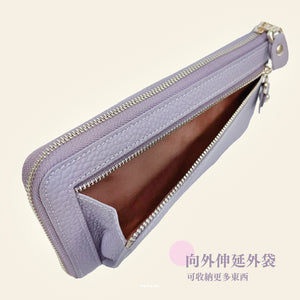 Outer pocket
There are patch pockets extending outward, which can keep the wallet slim when not in use, allowing ladies to store some earrings and other jewelry.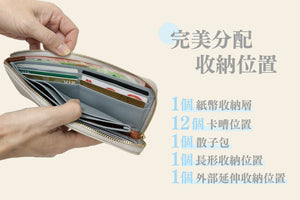 Perfect Distribution
Careful design allows the wallet to be organized, can be separated into different locations, and can be used to quickly withdraw credit cards and other items.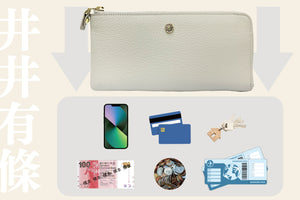 Functional Storage wallet
There are a lot of storage locations. When you go out on the street, you only need to carry our long wallet. Phones, keys, and credit cards can be easily stored.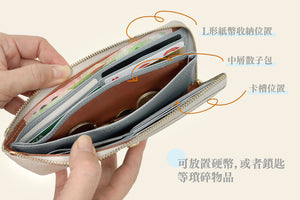 High Practicality
The L-shaped zipper design allows you to retrieve items easily and quickly.
In addition to separating the wallet, the loose bag and the long storage position in the middle can also maintain the privacy of your wallet, so that all your belongings will not be seen at a glance.
Ultimate Lightweight Design
重量只有150克!
我們帶銀包設計到有一定的厚度,可以讓大家使用時更得心應手,有一定的質感厚度可以讓你更輕鬆一手掌握長銀包。
Perfect Size
完美的尺寸可以讓紙幣更輕鬆放入銀包,而不會不需要做出任何摺疊,前後的位置我們預留一些空間,可以輕鬆放置極大量的紙幣。
還有
NNM亦有短銀包~同樣會有不同的細心設計!
同樣是全皮革製造,實用間隔配搭迷你尺寸!